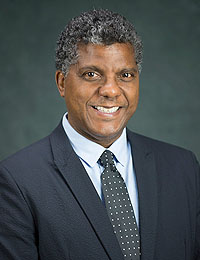 Steven Price, DDS
Dr. Price graduated from Howard University with a Bachelor of Science degree in Microbiology in 1978. He graduated from the Howard University College of Dentistry with a Doctorate in Dental Surgery (DDS) in 1983. He has practiced general dentistry for over thirty years in the DC Metropolitan area. During this time he has gained extensive training in: Orthodontics, TMJ-Whiplash Injuries, Periodontics, Laser therapy, CEREC restorative treatments, Digital Radiography, Oral Cancer and was awarded a DC Dept. of Health Grant for residents who are at risk for oral cancer. Dr. Price has served on several community oral health task-force and boards. He has served as the Vice President of the Montgomery County Volunteer Dental Clinic, served as the President of the Montgomery County Oral Cancer Task Force. He has lectured to:
1). Howard University College of Dentistry students on Practice Management
2). DC Trial Lawyers Association meeting on Whiplash Injuries
3). Oral Health Task Force for Intellectually Disabled
4). Robert T. Freeman and Maryland Dental Society on CAD-CAM dentistry.
Education
Advanced Laser Dentistry: Laser Assisted New Attachment Procedure (LANAP) (2012-2013)
Chairside Economical Restorations of Esthetic Ceramics Training (CEREC) (1996-2017)
Cerec Premium Software Beta Tester
Advanced levels 3,4,5,6, Mentor; CEREC Study Club
International Dental Show, IDS 2013 and 2015 Cologne, Germany 10 day factory tours
Comprehensive Dental Implantology Course with Dr. Richard Borgner. Tampa, FL (2001)
Sinus lift implant placement , Crestal Ridge splitting
Howard University College of Dentistry Implant Maxi Course (2000-2001)
Core-Vent Center for Dental (1987)
Orthodontics/Orthopedic Center for cranial facial pain (1985-2000)
United States Dental Institute (USDI) Orthodontics for General Practitioners (1984-1987) 3 yr. program
Associateship: Dr. Oswaldene Walker, Periodontics (1982-1984)
Howard University College of Dentistry (1978-1983) Doctorate of Dental Surgery, DDS
Howard University- Bachelor of Science in Microbiology (1974-1978) Bachelor of Science, BS Microbiology

Organizations
Dr. Price is an active member in the National Dental Association, American Dental Association, CEREC Mentor Group and Advanced Laser Dentistry Group. He is also President of the Robert T. Freeman Dental Society and Executive Board member of District of Columbia Dental Society.

The Washington Smile Center